Please note this is a Pre-order item. For further details, kindly contact

seller-ewg-sg@graas.ai.


With 5 cuff sizes for a wide range of patient profiles, HBP-1120 is designed for use in professional setting and has been clinically proven to deliver fast and reliable results.
Product Features
EASY-TO-USE
Designed for routine blood pressure measurements on patients. The screen is optimally angled for use on a desk and displays the reading with large numbers to ensure maximum visibility for healthcare professionals.

COMPACT DESIGN
The compact design lets this device easily fit on any desk.

SIMPLE USER INTERFACE
The device realizes simple and enhanced usability at the same time. Large start/stop button with 2 other buttons for auscultation and power on/off.

EASY MAINTENANCE
The device and cuffs can be cleaned easily with a soft cloth moistened with alcohol.

Dual Measurement Mode
Users can choose from two measurement modes-oscillometric measurement and auscultation method with the latter using stethoscope.

Zero Indicator Function
Provides medical professional with the added assurance on the device's pressure accuracy. The indicator lights when 'zero calibration' is being performed prior to blood pressure measurement. The device displays "OK" sign when it is ready for measurement.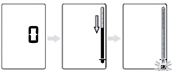 Motion Stop Function
When body movement is detected, the device stops deflation for 5 seconds.

Irregular Pulse Indicator
Helps identify changes in heart rate, rhythm, or pulse which may be caused by heart disease or other serious health issues. The icon is also displayed when body movement is detected during measurement.

5 cuff sizes available for measurement
The unit can be used on pediatrics of age 3 years and above.
Cuff sizes available for use on different arm circumference: XL:42-50cm, L:32-42cm, M:22-32cm, S:17-22cm, SS:12-18cm.

Highly Durable
Equipped with a highly durable pump, robust sensor, and uniquely shaped sturdy plastic cuff connector, HBP-1120 is durable enough to survive daily intensive use in hospitals and clinical setting.




Battery or AC Operation
The device can operate using 4 'AA' batteries or AC power.


You May Also Be Interested