Please note this is a Pre-order item. For further details, kindly contact seller-ewg-sg@graas.ai.


Ideal for self measurements in hospital/clinic settings. Get accurate measurements with HBP-9030 with its full suite of measurement support features that include elbow detection sensor & moveable cuff to guide users to correct sitting posture.
Product Features
Fully automatic Blood Pressure Monitor for easy measurement, can be used on children of 12 years old and older.

Recommended for Self-check measurement stations (before doctor's consultation), clinics.
Automatic blood pressure monitor with easy-to-read display and user-friendly features
Compatible with a wide range of arm thickness (from 17 cm to 42 cm circumference)
LED display and audio voice guide users through the measurement procedure, making measurement easy for new users
Audio announcement of results after measurement
Antibacterial finishing for both the device and the cuff cover
Customized printed results with image/logo upload function
Measurement data can be directly transmitted via USB
The replaceable cuff eliminates the need to send the entire unit back to the customer service center for leakage repair, minimizing product downtime. Accurate measurement with new user support functions

Accurate Measurement Navigation

The Illustration and audio guide support accurate measurements. Language of audio guide and printed results can be changed from English to Bengali, Indonesia Bahasa, Thai, or Vietnamese*.
*Note: Please consult with OMRON representatives for language software installation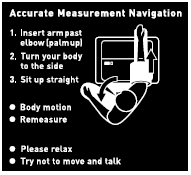 Elbow Detection Sensor
Guide users arm to the correct position for measurement.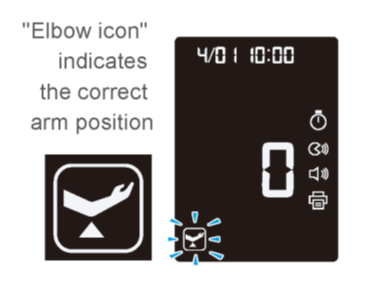 Movable cuff

The cuff provides angle control that supports taller people to have correct sitting and arm position comfortably.

You May Also Be Interested